10 de Agosto del 2008
(versión en castellano abajo)
This is a visual experiment showing some common statistics formulae (mean, median and absolute deviation) applied to some classic movies (2001: A Space Odyssey, Apocalypse Now, Breakfast at Tiffany's and The Godfather). The formulae were applied separatedly for every pixel over time, using color data as values.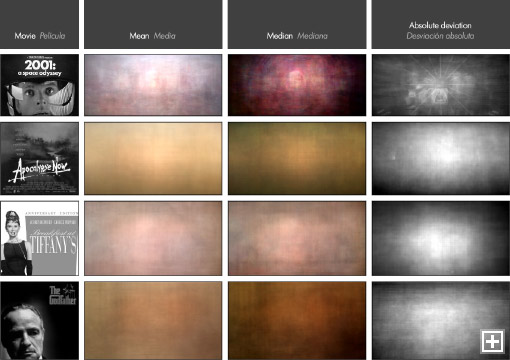 *Images intensity have been normalized for a better visualization.
Castellano
En este experimento visual muestra varias fórmulas estadísticas (media, mediana y desviación absoluta) en películas clásicas (2001: Una Odisea en el Espacio, Apocalypse Now, Desayuno con Diamantes y El Padrino). La aplicación de las fórmulas se realizó para cada pixel por separado, a través del tiempo, usando como datos los valores de color.
*La intensidad de las imágenes ha sido ajustada para una mejor visualización.